About Our Quality Engineered Wood Products
Wood Door Stiles and Rails for all your stile and rail needs and bendable veneers.
The impression of a home or business is often formed by how it looks and the first thing we notice is the front door. This is especially true of wooden doors which give a warm, rich, and personal feeling. A door made using an engineered stiles & rail system will give you that personal touch while still supplying stability and security.
At Door Stiles, LLC, this system allows us to produce parts of the highest quality. We take finger joint Pine or cross-banded LVL from the west coast soft woods and that becomes our core. Then we use 3/16 thick veneers with 3/4″ edge bands, in a variety of species and grades to wrap around the core.
Our veneer types include:
Alder: Knotty Alder & Superior Alder
African Mahogany
Banak
Cherry
Cypress (Reclaimed as well as Sinker)
Eastern White Pine
Fir
Genuine Mahogany (while available)
Maple (both Soft Maple and Hard Maple)
Pine
Ponderosa Pine
Poplar
Red Oak
Sapele
Sipo
Spanish Cedar
Walnut
White Oak
Call for quotes on other species.
This extensive inventory allows us to custom design any stile or rail to your specifications. The result is a finished product that is precisely crafted for strength and fit but is as beautiful as a solid lumber piece. Works great on CNC Machine.
An engineered stile and rail system has many advantages over solid lumber:
The process results in lighter, stronger parts with less chance of warping
Less equipment is needed since the parts are sold ready for profiling
Less time needed for assembly so your lead time is decreased
Since you can order the width and length you need, it is easy to calculate a fixed cost
We only use Franklins type I waterproof glue in our laminating process
To ensure our standards of quality we perform random testing using the WDMA type one testing (which includes a Multiple Boil – Dry Test.)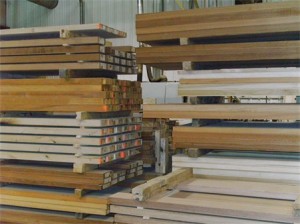 If you want your company to be known for manufacturing long lasting and beautiful doors, you need to start with the right parts. Call us at Door Stiles, and start building your reputation for quality.
Door Stiles has the woods you want, the quality and stability of stave core that you need. Let us provide you with the engineered lumber products to help you make beautiful doors and millwork that last.
Door Stiles, LLC for stave core and more!